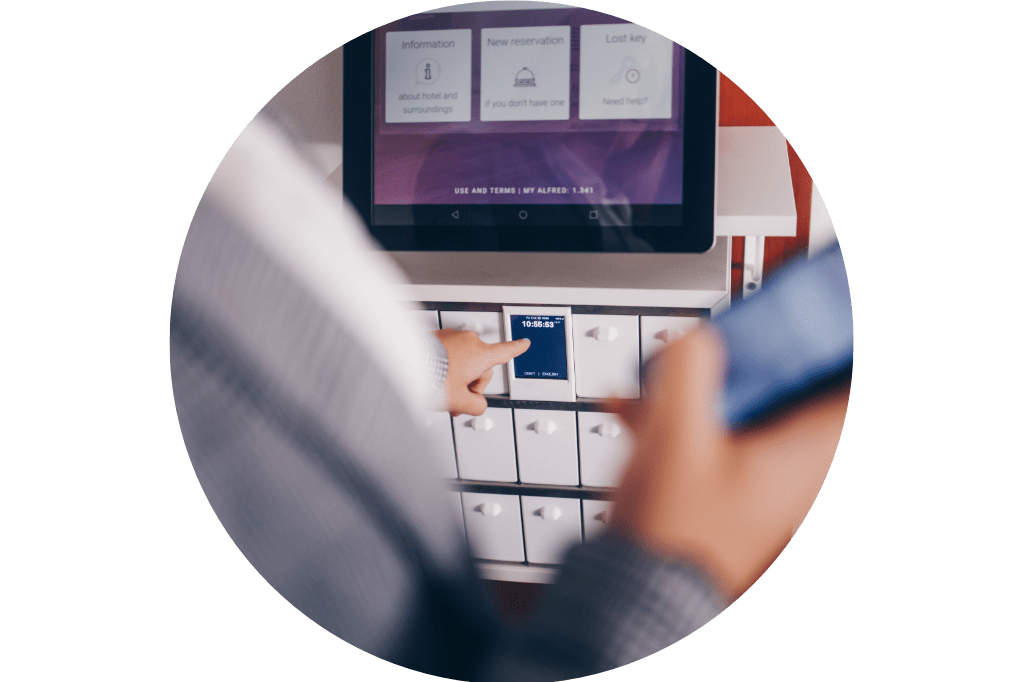 Save on
labour costs
With Keyguru you can create a cost-effective and user-friendly unattended reception.
I want to save on wages with unattended reception
DOWN
Unattended reception
The Keyguru box takes care of handing over keys or cards to guests 24/7 without the need for a receptionist. By connecting to the check-in app, guests can conveniently fill out the necessary documents online before they arrive at the hotel.
Smart electronic doorman
Guests must be able to enter the building before collecting their keys from the self-service box at reception. Even at midnight. Don't leave the hotel open all night – we have a reliable doorman who will only open the door for those with an access code.
How our customers view Keyguru
We pride ourselves on high quality service and personal contact with our guests, yet the box is a great help to us. We try to move with the times – some guests prefer modern technology. That's why we purchased the box while maintaining the front desk. At least our receptionists have time for more important things than issuing keys.
I run a small guesthouse myself and can't afford to sit at the front desk all day. Thanks to the Keyguru box, I don't have to be within driving distance or schedule my time around guests. I can get a lot more work done. Plus, guests are happier that they can check in flexibly.
Due to the low occupancy, it is not worth paying the receptionist and we may have to close the hotel. With the Keyguru box, guests check themselves in and the cost of the front desk is minimal. As a result, we are managing to run the hotel even in these difficult times.
We want to provide guests with contactless check-in so they don't have to worry about getting infected with covid-19. Thanks to the Keyguru box, guests don't have to stay at the reception. Upon arrival, they just pick up their keys in the box and go straight to their room. For our guests, this is an extra service that gives us an edge even over our competitors.